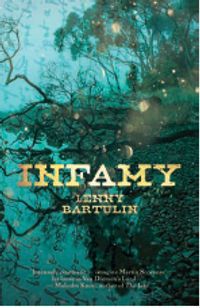 BACK
INFAMY
A dark and gripping Western set in Tasmania, which reads like Cormac McCarthy meets Deadwood.
Infamy tells the story of William Burr, former English soldier of fortune who is lured from South America to the colony of Tasmania by Lieutenant Governor Arthur as a bounty hunter, charged to find and capture Brown George Coyne, a notorious escaped felon who has established a camp in the bush populated with desperate, renegade Aborigines and other escaped convicts. Shortly after Burr's arrival Ellen Vaughan, the wife of a corrupt magistrate is kidnapped and it's believe Coyne is responsible.
As Burr ventures further into the wilderness on his trail, Coyne grows increasingly mad and declares himself king of the frontier, growing wealthier by the day from ambushes and raiding party forays into the towns. With most of the armed forces concerned with clearing the land of its aboriginal population, Coyne's influence spreads and threatens to destabilise the entire colony. Coyne's men take a wounded Burr hostage, along with Ellen Vaughan, and together they must try to escape the heart of darkness and warn Arthur that is colony is on the brink of anarchy.
A steamy love story with breathtaking action, cut-throat villains and corrupt and deadly officials galore, this is a brilliant and hugely enjoyable recreation of Tasmanian history by a local who is not only a terrific storyteller but also a skilled and evocative writer. A galloping tale that's also sensitive and faithful to history.

Lenny Bartulin the author of the Jack Suszco trilogy and a published poet. Born and bred in Hobart, he is currently living in the Blue Mountains.
More like this