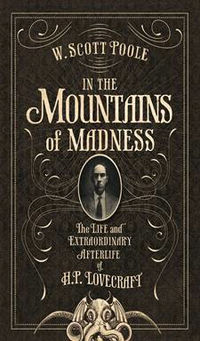 BACK
IN THE MOUNTAINS OF MADNESS
The Life and Extraordinary Afterlife of H.P. Lovecraft
This fascinating biography provides a fresh take on H.P. Lovecraft, the master of the weird tale and why he matters, including his influence on horror/ science fiction writers Stephen King and Neil Gaiman, film-makers John Carpenter and Guillermo Del Toro, and iconic TV and video game franchises.
How did a little-known pulp author become part of the Library of America?
How did Gawker come to use the adjective "Lovecraftian" to describe a black cheeseburger in Japan?
Who is this odd author and how has his influence become so prevalent in so many different aspects of our pop culture?

Just like he did with his critically acclaimed book on Vampira, W. Scott Poole dives to the malign depths to uncover the life and extraordinary afterlife of H.P. Lovecraft in his brilliant and page-turning new book In The Mountains of Madness. No one has written about Lovecraft quite like this —a survey of his life but more importantly an examination of his tendrils of influence that stretch out to role playing games, film, television, books, comics, and so much more. Based on years of research and interviews, and with a deep knowledge of the history of horror and pop culture in America, Poole's new book boldly looks at the recent controversies surrounding this iconic author: his looming presence in the horror/sci-fi community, Lovecraft's ideas about race, immigration, and fascism in the context of the early 20th century and the recent controversy over the World Fantasy Award, and a provocative look at his relationship with women through the lens of his mother and his wife.

W. Scott Poole's award-winning history Monsters in America received the John G. Cawelti Prize from the Popular Culture Association and was named among the "Best of the Best" by the American Association of University Presses for 2011. Poole is also the author of Vampira: Dark Goddess of Horror (Soft Skull 2013) and a regular contributor to Popmatters . His work has been published in the Huffington Post, Religions Dispatches and Killing the Buddha. He has been a guest speaker at Authors@Google and has collaborated on films for the History Channel and PBS.
More like this