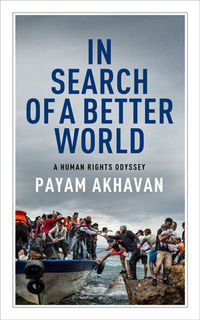 BACK
IN SEARCH OF A BETTER WORLD
A Human Rights Odyssey
Payam Akhavan was nine years old when he and his family left Iran for Canada. They were members of the persecuted Baha'i faith, and Payam lost close friends and loved ones whose deaths ultimately encouraged his entry into human rights law. After studying alongside Barack Obama at Harvard, Akhavan would become the UN's youngest-ever war crimes prosecutor and the first Legal Advisor to the Prosecutor's Office of the International Criminal Tribunals for the former Yugoslavia and Rwanda at The Hague.

In IN SEARCH OF A BETTER WORLD, Akhavan draws on his personal and professional experience in what is ultimately a mix of memoir, history, and a call to action. While exploring the atrocities committed in Iran, Bosnia, Rwanda, 9/11, and Syria, Akhavan argues that deceptive utopias, political cynicism, and public apathy have given rise to major human rights abuses. But he also reflects on the inspiring resilience of the human spirit and the reality of our inextricable interdependence to liberate us, whether from hateful ideologies that deny the humanity of others or an empty consumerist culture that worships greed and self-indulgence.

Akhavan has a speaking engagement at Oxford in March 2018 and has been asked to speak at both UCL and Cambridge in the new year, with more UK and European engagements to follow.

This is the 2017 Massey Lecture.
More like this