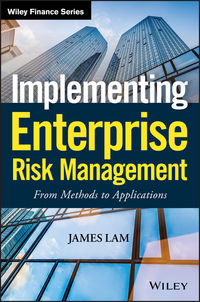 BACK
Implementing Enterprise Risk Management
From Methods to Applications
As the speed at which companies do business all over the world increases, so does the velocity of existential risks. Still, even risk professionals with exemplary knowledge will not be successful unless they can effectively put their ideas into practice— Implementing Enterprise Risk Management turns their expertise into business value.
Picking up where Enterprise Risk Management leaves off, pioneering risk management authority James Lam distills his more than thirty years of experience at the highest levels of business into a clear, focused approach to integrating an enterprise risk management (ERM) program into any company. His innovative performance-based continuous model for ERM is specifically designed to tackle the global risks facing today's organizations in such areas as strategic risk management and cyber security.
Getting an ERM system up and running is a complex, multi-year effort, and this complete blueprint ensures everything is on track at the very start, from outlining the scope and goals of an ERM initiative through using the accurate and insightful metrics, reports, and feedback loops critical to maintaining program effectiveness. Revealing case studies and examples demonstrate how to implement an ERM program in two years, integrate risk into business decisions, create a cyber security risk appetite statement and metrics, structure a concise report from the Chief Risk Officer to the risk committee, and more. Keep this versatile book at your fingertips for everyday guidance on:
Overcoming common execution issues and cultural barriers to proficiently implement a sophisticated ERM program
Using an exclusive customized model of tiered defenses to clearly define the role of the board, corporate management, and operating units
Developing and applying state-of-the-art ERM processes and tools to make more- informed business decisions and create value
Enhancing the risk culture of the organization by aligning performance measurement and incentives
Incorporating the opportunity side of risk in maximizing risk-adjusted profitability
Find the optimal balance of risks and rewards with Implementing Enterprise Risk Management.
More like this