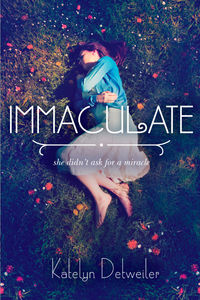 BACK
IMMACULATE
Mina Dietrich gets pregnant at age seventeen, the summer before her last year of high school. Teen pregnancy is not unheard of in her small town, but what makes Mina's truly remarkable is that she claims to be a virgin.
Mina is seventeen. A virgin. And pregnant.
Mina is top of her class, girlfriend to the most ambitious guy in school, able to reason and study her way through anything. But when she suddenly finds herself pregnant—despite having never had sex—her orderly world collapses. Almost nobody believes Mina's claims of virginity. Her father assumes that her boyfriend is responsible; her boyfriend believes she must have cheated on him. As news of Mina's story spreads, there are those who brand her a liar. There are those who brand her a heretic. And there are those who believe that miracles are possible—and that Mina's unborn child could be the greatest miracle of all.

Mina's experiences magnify real, universal issues that readers can understand: teenage pregnancy, friendship, relationships, prejudice, bullying. Mina's world is grounded and accessible, which makes the miracle—the unexplainable—even more believable. It is a world so like ours. But a world with new possibilities.

Katelyn graduated with a B.A. in English Literature, emphasis in creative writing, from Penn State University, and then made the move to New York for the Columbia Publishing Course. She worked in the marketing department of Macmillan Children's Publishing Group before joining our agency. Katelyn grew up in a small town in Pennsylvania—a town much like Mina's—and has been crafting this story in her subconscious ever since she was a teenager, when during a long car ride and a game of "what if's" with her mother, she asked: "Would you believe me if I said I was a pregnant virgin?" Her mother looked at her, cocked her head, and smiled. And then she said yes.

Weblink:
katelyndetweiler.com


More like this