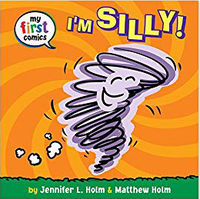 BACK
I'M SILLY
Parents looking for funny books to read to their babies and toddlers have something to cheer abouta new comic board-book series about feelings from Jennifer and Matthew Holm!
In I'm Silly!, a hyperactive tornado gets a bit TOO goofy and ruins his friends' tea party. A sweet, funny, and simple introduction to the impact that emotions can have on the people around you from the bestselling creators of Babymouse and Squish, Jennifer L. Holm (author of The Fourteenth Goldfish) and Matthew Holm. The Eisner Award winners use panel frames, speech balloons, and thought bubbles to teach children how to read a story.

Brother-and-sister team JENNIFER L. HOLM and MATTHEW HOLM are the creators of the Babymouse and Squish series. Jennifer is the New York Times bestselling author of The Fourteenth Goldfish and several other highly acclaimed novels, including three Newbery Honor winners, Our Only May Amelia, Penny from Heaven, and Turtle in Paradise. Matthew is a graphic designer and freelance writer. Visit Jennifer at jenniferholm.com, and follow her on Twitter at @jenniholm. Visit Matthew at matthewholm.net, and follow him on Twitter at @mattholm.
More like this