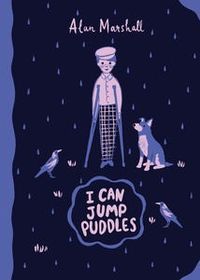 BACK
I CAN JUMP PUDDLES
It amazed me that they would imagine I would never walk again. I knew what I was going to do. I was going to break in wild horses and yell 'Ho! Ho!' and wave my hat in the air, and I was going to write a book like The Coral Island.
Every so often, there comes a story so brilliant and lively and moving that it cannot be left in the past. Rediscover the magic of our country's most memorable children's books in the Penguin Australia Children's Classics series of stories too precious to leave behind.

Alan Marshall was born in Noorat, Victoria in 1902 and educated in Terang. He lived in Melbourne for some time, and then travelled extensively around Australia. He has recounted the story of his life and travels in a three-part autobiography. I Can Jump Puddles, the first book of the trilogy, is the story of his childhood. It is one of Australia's best loved books, and is known around the world in thirty languages. It was made into an award-winning film by Czechoslovakian director Karel Kachyna in 1970. "This is the Grass" is the second book of Alan Marshall's autobiography; the third is "In Mine Own Heart".
More like this