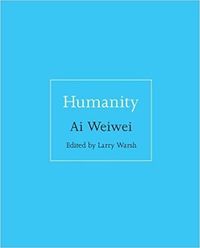 BACK
HUMANITY
Edited and with an introduction by Larry Warsh
Writings on human life and the refugee crisis by the most important political artist of our time.

Ai Weiwei (b. 1957) is widely known as an artist across media: sculpture, installation, photography, performance, and architecture. He is also one of the world's most important artist-activists and a powerful documentary filmmaker. His work and art call attention to attacks on democracy and free speech, abuses of human rights, and human displacement--often on an epic, international scale.

This collection of quotations demonstrates the range of Ai Weiwei's thinking on humanity and mass migration, issues that have occupied him for decades. Selected from articles, interviews, and conversations, Ai Weiwei's words speak to the profound urgency of the global refugee crisis, the resilience and vulnerability of the human condition, and the role of art in providing a voice for the voiceless.

Ai Weiwei is one of the world's most influential and inspiring figures. His work has been exhibited at the Museum of Modern Art in New York, the Venice Biennale, the Guangzhou Triennial, Tate Modern, and the Smithsonian, among many other major international venues.
Larry Warsh has been active in the art world for more than thirty years. He has collaborated with Ai Weiwei on several projects, including the public art installation Circle of Animals / Zodiac Heads. He is the editor of Weiwei-isms and Jean-Michel Basquiat's Notebooks (both Princeton).
More like this