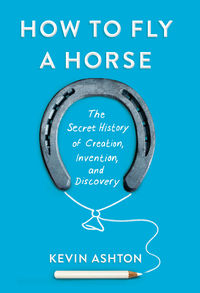 BACK
HOW TO FLY A HORSE
A Secret History of Invention, Creation and Discovery
We are all told the same stories about creativity: stories about inspiration, insight, incubation and — above all — genius; stories where creation is mystery, creators are magicians and creating is unique and special, the work of a rare few who conjure art and invention out of thin air.

The stories are wrong.
Kevin Ashton takes readers behind the scenes of creation to reveal the true process of discovery. From Archimedes to Apple, from Kandinsky to the Coke can, from the Wright Brothers to Woody Allen, he uses stories and science to prove that creation needs no inspiration, insight, incubation or genius, and explains the reality behind creativity without resorting to magic or myth. Ashton exposes the seemingly unremarkable individuals, gradual steps, multiple failures, and countless ordinary — and usually uncredited — acts that set the stage for humanity's greatest creations. He draws upon research and historical precedent to tear down the myth of the "predestined" genius, proving that creation can rarely be predicted. By taking us back in time, from the final product to its initial seeds, he shows us how every creative act stands on the shoulders of previous generations. NO GENIUS NECESSARY will inspire the inventor in every reader with its refreshing, new take on the idea of "new." We will never see our world — or the way we create it — the same way again.

Kevin Ashton was an Executive Director and visiting engineer at MIT, where he led pioneering work on the next generation of computing, which he called "the Internet of Things," now a widely used term. He has spoken on innovation and technology to audiences in the United States, South America, Asia and Europe. He has been published in The Independent, Quartz, and Medium, and profiled and interviewed by media including The New York Times, The Economist, Time, Forbes, NPR and the BBC. He was a leader at three successful technology start-ups, the most recent of which, Zensi, he co-founded, led as CEO and sold to Belkin International in 2010. He lives in Los Angeles, California.
More like this