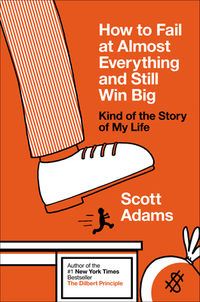 BACK
HOW TO FAIL AT ALMOST EVERYTHING AND STILL WIN BIG
Kind of the Story of My Life
Dilbert creator Scott Adams offers his most personal book ever—a funny memoir of his many failures and what they eventually taught him about success.
How do you go from hapless office worker to world-famous cartoonist and bestselling author in just a few years? No career guide can answer that, and not even Scott Adams (who actually did it) can give you a road map that works for everyone. But there's a lot to learn from his personal story, and a lot of humor along the way.

HOW TO FAIL AT ALMOST EVERYTHING AND STILL WIN BIG, Adams admits that he failed at just about everything he's tried, including his corporate career, his inventions, his investments, and his two restaurants. But along the way, he discovered some truths that you're unlikely to find anywhere else. For instance… • Goals are for losers. • You can get fit without using willpower. • A combination of mediocre skills can make you surprisingly valuable. Adams hopes readers can laugh at his failures while discovering some unique and helpful ideas of their own. Scott Adams is the creator of Dilbert, one of the most popular and widely-distributed comic strips of the past quarter century. He has been a full-time cartoonist since 1995, after 16 years as a technology worker for companies like Crocker National Bank and Pacific Bell. His many bestsellers include The Dilbert Principle and Dogbert's Top Secret Management Handbook. He lives outside of San Francisco.

Weblink:
http://www.us.penguingroup.com/nf/Book/BookDisplay/0,,9781591846918,00.html?strSrchSql=how+to+fail+at+almost+everything/How_to_Fail_at_Almost_Everything_and_Still_Win_Big_Scott_Adams#


More like this