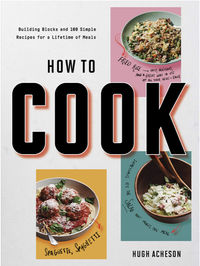 BACK
HOW TO COOK
Building Blocks and 100 Simple Recipes for a Lifetime of Meals
An empowering collection of impressive recipes that will teach young adults (ages 16+) and kitchen novices all the skills they need.
Acclaimed chef and dedicated father Hugh Acheson taught his teenage daughters how to cook with the belief that cooking is an essential life skill. But he realized that not all teens can (or want to) learn directly from their parents and that really, all they need to know for a lifetime of good cooking is a handful of skills. Hugh distills the cooking lessons that everyone should master into twenty-four basic building blocks: easy-to-grasp techniques and recipes that can turn anyone, young or old, into a confident home cook.

Hugh Acheson is the chef/partner of the restaurants Five & Ten, The National, and Empire State South, named restaurant of the year by Atlanta magazine. He is winner of two James Beard Awards for Best Chef Southeast and Best American Cookbook.
More like this