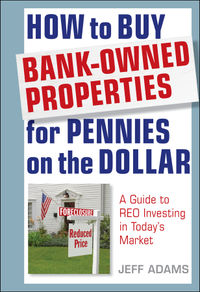 BACK
How to Buy Bank-Owned Properties for Pennies on the Dollar
A Guide To REO Investing In Today's Market
In recent years, banks and lending institutions have foreclosed on several million properties, and now they have to unload them—at fire-sale prices. As banks desperately seek buyers for these properties, homeowners and investors have opportunities they may never see again in their lifetime.
With bank-owned "REO," or "real estate owned" properties, you deal directly with a motivated seller—the bank—and get the foreclosure price without the endless time-consuming hassles of a short sale or pre-foreclosure purchase. And you won't need a ton of cash; almost any investor or homebuyer can afford REO investing at fire-sale prices. How to Buy Bank-Owned Properties for Pennies on the Dollar explains the easiest way to find the best REO deals in your market, access private lenders and cash, find qualified buyers, and quickly maximize your profits. Get step-by-step advice on:
Why REO investing saves time and money compared to traditional foreclosures and short-sales

How to secure cash when you don't have any of your own to invest

How to research your market, create an investment plan, and develop an exit strategy

How to find the best REO agents and get them on your side

What to do next: wholesale the property to another investor, fix it up and sell it at retail, or rent the property for a positive monthly cash flow
How to Buy Bank-Owned Properties for Pennies on the Dollar will help you get the best possible terms on the greatest bargains—and achieve the financial freedom you desire.
More like this