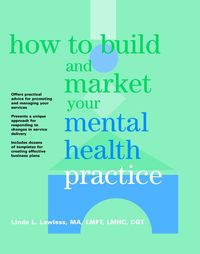 BACK
How to Build and Market Your Mental Health Practice
The help you need to continue helping those in need

This book is for mental health professionals who wonder how tosurvive in the constantly changing mental health servicesmarketplace. It provides crucial advice on how to build and run amental health practice while serving clients and coping with theseemingly endless series of adjustments, documentationrequirements, and ethical dilemmas that confront the professiontoday.

Successful psychotherapist and practice consultant Linda L. Lawlesstakes you step by step through the process of evaluating yourcurrent position, choosing a professional path, and taking decisiveaction to achieve your business goals. She covers the nuts andbolts of the business side of private practice--including rentingoffice space, securing referrals, billing and record keeping, andoffice management.

This accessible guidebook also shows you how to:
* Market your services effectively and ethically
* Enhance your professional reputation
* Build a steady client referral base either inside or outside themanaged care system
* Position yourself to serve client and community needs, whilebuilding the kind of practice you want

Supplemented with dozens of sample brochures, business plans,marketing plans, and self-assessment exercises, Therapy, Inc. isthe book that beleaguered therapists and counselors have beenwaiting for.
More like this