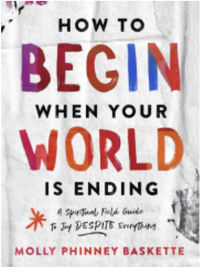 BACK
HOW TO BEGIN WHEN YOUR WORLD IS ENDING
A Spiritual Field Guide to Joy Despite Everything
A book of moving, witty, and probing reflections that provide a practical and spiritual perspective to the things in life that seem like they will kill us... and sometimes do. An ideal read for anyone who longs to feel that "God is good, all the time" even if life is not, HOW TO SURVIVE EVERYTHING will appeal to readers of Lori Gottlieb's MAYBE YOU SHOULD TALK WITH SOMEONE, Kate Bowler's EVERYTHING HAPPENS FOR A REASON, and Maggie Smith's KEEP MOVING.
Molly Baskette bears witness to the most vulnerable, aching, confusing, and frail moments in people's lives. She has served as a pastor to people convicted of heinous crimes, those living with treatment-resistant depression and PTSD, people suffering from unremitting eating disorders, domestic and sexual abuse survivors, those experiencing pregnancy loss or divorce, people fleeing violence in another country, and those coming out as queer to fundamentalist parents or discerning their true gender. But when she was diagnosed with an aggressive cancer at age thirty-nine, Baskette's understanding of God changed.

The truth is that not one of us will make it through this life unscathed. Suffering will come. Our resiliency in life comes not just from suffering, but from how we find meaning in it all. Many of us see belief in God and religion, generally, as about arranging the religious truths we "know" into a cohesive system, a blueprint, for understanding faith and meeting real-world challenges.
Witty and thoughtful, Molly Baskette tosses aside that blueprint and pointedly asks us to explore our assumptions about our faith, our life, and our purpose. Weaving together her experience surviving cancer and the stories of those she has encountered in her life of faith as a pastor, Baskette helps us press a thumb against the bruise of the reality that this sweet, hard, wonderful gig of being human will someday come to an end and perhaps sooner than we expect. In doing so, she finds hope, banishes fear, and helps us--and herself--find our way back from despair.

Molly Phinney Baskette, M.Div. is the Lead Minister of First Congregational Church of Berkeley, California and the author and co-author of several series of books. Molly has worked for God for a living in a wide variety of settings including Mexican orphanages; large, mostly white suburban churches; multiracial urban churches; and First Church Somerville, a radically renewing United Church of Christ that boasts its own Drag-Queen-in-Residence. Her books fill gaps in the progressive Christian canon and they include grief workbooks for children, lively and compelling how-tos for church renewal, and most recently, a parenting book blending progressive faith and psychological science. Molly teaches around the country and online with expertise in church renewal, adaptive/disruptive leadership and organizational change, social media, and spiritual formation. She has an online video presence and writes spiritual formation materials with the Stillspeaking Writers' Group of the United Church of Christ, which has a daily readership of over 30,000. Molly lives in Alameda, CA with her husband and two children, where she loves to march in the streets, bike the Bay, or read in the hammock, depending on God's agenda for the day.

Weblink:
http://www.mollybaskette.com/about/


More like this