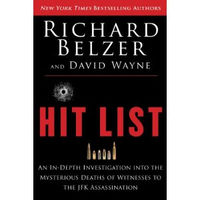 BACK
HIT LIST
An In-Depth Investigation into the Mysterious Deaths of Witnesses to the JFK Assassination
Richard Belzer and David Wayne are back to set the record straight after Dead Wrong; this time they're going to uncover the truth about the many witness deaths tied to the JFK assassination. For decades, government pundits have dismissed these "coincidental" deaths, even regarding them as "myths" as "urban legends.
Like most people, Richard and David were initially unsure about what to make of these 'coincidences'. After all, events don't "consult the odds" prior to happening; they simply happen. Then someone comes along later and figures out what the odds of it happening were. Some of the deaths seemed purely coincidental; heart attacks, hunting accidents. Others clearly seemed noteworthy; witnesses who did seem to know something and did seem to die mysteriously. Hit List is a fair examination of the evidence of each case, leading to (necessarily) different conclusions. The findings were absolutely staggering; as some cases were clearly linked to a "clean-up operation" after the murder of President Kennedy, while others were the result of 'other forces'. The impeccable research and writing of Richard Belzer and David Wayne show that if the government is trying to hide anything, they're the duo who will uncover it.

Richard Belzer is a stand-up comedian, actor and author. He is currently cast and best known for his role as John Munch on the hit NBC show, Law & Order: Special Victims Unit. He has written such books as UFOs, JFK, and Elvis (2000), and the novels I Am Not a Cop! (2009) and I Am Not a Psychic! (2010).

David Wayne grew up in the Chicago area during a period of tumultuous change in the 1960s, which fueled his interest in contemporary history. After attending college in the Midwest, he spent many years at Stanford University as an independent research consultant. He is now an investigative journalist with over twenty-five years of evidence-based research experience, with a specialty in the microanalysis of media events. He makes his home in Bogotá, Colombia, with his wife, Marta, and their daughter, Nikki.

Weblink:
http://www.skyhorsepublishing.com/book/?GCOI=60239108985230&


More like this