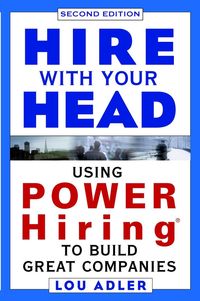 BACK
Hire With Your Head
Using POWER Hiring to Build Great Companies
"If you want to hire superior people, use a system designed to hire superior people, not one designed to fill jobs."
-Lou Adler

A proven system for hiring superior people is exactly what you'll get from this updated and better-than-ever Second Edition of Hire with Your Head. Any organization is only as strong as its weakest link. As such, it's crucial to avoid recruiting people who weaken the chain or adversely affect your organization. Of course, there is no foolproof method for knowing exactly how candidates will work out if you hire them, but there are precautionary methods you can use to eliminate those candidates who definitely won't work out. Written by veteran headhunter Lou Adler, this powerful resource-widely acclaimed by managers and human resources pros-gives you the tools to sidestep potentially costly mistakes by making better judgments on who fits the bill and who doesn't.

Though most managers understand the importance of hiring wisely, many don't know how. In the end, they often choose prospective employees based on gut reactions. While this strategy sometimes works, more often it leaves managers with ineffectual or unmotivated employees. Decisions based on emotions, biases, personalities, or stereotypes often reveal themselves as bad decisions in hindsight. The key to dodging this pitfall is to train yourself to base all of your hiring decisions on reason, not emotion.

Hire with Your Head shows you how to focus on candidate performance rather than your own impulses. It covers the fundamentals of sound hiring, including proper interviewing and assessment techniques, and outlines these techniques through Adler's patented POWER Hiring(r) process, a method that addresses and solves all the problems and inconsistencies of the hiring process. Based on his extensive experience as both a headhunter and an executive-level manager, this practical and proven approach consists of five steps:
* Performance profiles-define success, not skills
* Objective evaluations-conduct a complete objective assessment with only four questions
* Well-developed sourcing plans-sourcing is marketing, not advertising
* Emotional control-measure performance before personality to remain objective
* Recruiting effectiveness-recruiting is career counseling, not selling

Updated to include new material on using the Internet to hire and recruit, approaching passive candidates, and achieving diversity and maintaining legal compliance in your practices, Hire with Your Head is better than ever. Packed with invaluable tips and helpful exercises, as well as useful checklists and revealing benchmarks, it's the indispensable, hands-on guide every manager needs to hire the right person every time.
More like this