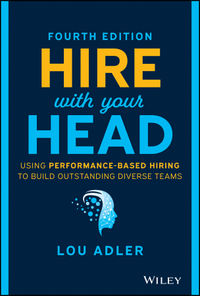 BACK
Hire With Your Head
Using Performance-Based Hiring to Build Outstanding Diverse Teams
Despite rapid and comprehensive changes affecting the hiring process, recruiting and retaining the best talent remains one of the biggest challenges facing companies today. The big reason is that many of the changes introduced in the past 25 years consist of automating outdated, inefficient, and ineffective practices. So, what is a hiring manager to do when faced with one of the most competitive recruitment arenas in history?
In the fully revised and updated Fourth Edition of Hire With Your Head: Using Performance-Based Hiring to Build Outstanding Diverse Teams, renowned hiring and recruiting leader Lou Adler offers a hands-on and practical guide for hiring managers to consistently hire outstanding diverse talent and strategies for scaling this effective hiring process across your company.
Adler calls this new approach Win-Win Hiring, where the person hired is still satisfied with the role one year into the job and the hiring manager is still pleased the person was hired. By hiring for the anniversary date, rather than the start date, it's possible to raise quality of hire, expand the talent pool, reduce hiring mistakes, and improve on-the-job performance. By implementing the performance-based hiring process described in this book, more Win-Win Hiring outcomes are not only possible, but likely.
The online Appendix to the book offers access to supplementary online resources, including videos, templates, scorecards, and interview guides to help modernize and reorient your hiring process. This book explores the critical impact of artificial intelligence technologies on recruitment and how you can apply it in your own organization.
Perfect for recruiters, human resource professionals, and hiring managers, Hire With Your Head: Using Performance-Based Hiring to Build Outstanding Diverse Teams is a can't-miss resource for any business leader seeking a new and powerful perspective on what it takes to attract and keep the best, most suitable talent.
More like this