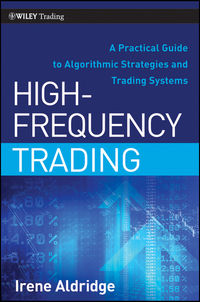 BACK
High-Frequency Trading
A Practical Guide to Algorithmic Strategies and Trading Systems
Financial markets are undergoing rapid innovation due to the continuing proliferation of computer power and algorithms. These developments have created a new investment discipline called high-frequency trading. Despite the demand for information on this topic, little has been published to help investors understand and implement high-frequency trading systems—until now.
Written by industry expert Irene Aldridge, High-Frequency Trading offers the first applied "how to do it" manual to building high-frequency systems.Covering sufficient depths of material to thoroughly pinpoint issues at hand, High-Frequency Trading leaves mathematical complexities to their original publications, referenced throughout the book.
Page by page, this accessible guide:
Discusses the history and business environment of high-frequency trading systems

Reviews the statistical and econometric foundations of the common types of high-frequency strategies

Examines the details of modeling high-frequency trading strategies

Describes the steps required to build a quality high-frequency trading system

Addresses the issues of running, monitoring, and benchmarking high-frequency trading systems
Along the way, this reliable resource skillfully high-lights numerous quantitative trading strategies—from market microstructure and event arbitrage to deviations arbitrage—and puts the creation and management of portfolios based on high-frequency strategies in perspective.
High-frequency trading is a difficult, but profitable, endeavor that can generate stable profits in various market conditions. But solid footing in both the theory and practice of this discipline are essential to success. Whether you're an institutional investor seeking a better understanding of high-frequency operations or an individual investor looking for a new way to trade, this book has what you need to make the most of your time in today's dynamic markets.
More like this