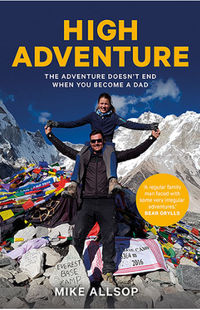 BACK
HIGH ADVENTURE
The Adventure Doesn't End When You Become a Dad
What happens when an accomplished adventurer becomes a father? Does he continue his solo adventures? Is there a way of having it all, family time plus adventures?
Mike Allsop is a dynamo, an airline pilot and mountaineer who ran seven peaks in seven days on seven continents. He's also a motivational speaker, author of bestseller High Altitude, a husband and the father of three children. He's found a way of incorporating his adventures into family life by taking each of his three children on major one-on-one expeditions. This has led to some incredible challenges:
- Trekking over 100 km in the Himalaya with each child at the age of seven - most recently Dylan
- Twelve-year-old Maya attempting the world's highest stand-up paddle board on a freezing lake at 5,300 metres
- Ethan, at 15 years old, struggling through altitude sickness to reach the summit of Kilimanjaro and set his own world record
- Fundraising to buy a new house for a Sherpa widow after the devastating earthquake of 2015

The challenges and excitement continue, with the family continually dreaming up new adventures.

Airline pilot, Everest mountaineer, adventurer and extreme marathon competitor MIKE ALLSOP is an ordinary family man proving that anybody can accomplish extraordinary things. One day, he wanted to stand upon the roof of the world and summit Everest. True to form, he broke the goal down and gained the necessary skills and experience by testing himself on difficult and potentially hazardous climbs across 6 different continents. He has since gone on to conquer numerous other mountains, pitting himself against the limits of human endurance and the unpredictable weather conditions that abound at extreme altitudes. He's narrowly dodged a fatal avalanche in Peru, risked being shot in Russia and returned a replica of a stolen Yeti hand to a monastery in Nepal. Mike is also one of a handful of athletes who have ever run 7 marathons in 7 days on 7 continents. This raised NZ$75,000 for New Zealand charity KidsCan. Most recently, Mike returned to the Himalayas to run the world's highest marathon around Everest - a feat never before attempted.
More like this