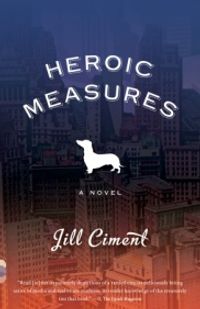 BACK
HEROIC MEASURES
A Novel
In Jill Ciment's new novel multiple narratives intertwine to tell the story of a dying dachshund, her owners, and the possibility of a terrorist threat that makes Manhattan hold its breath.
2004: a gasoline tanker truck is rumored to be "stuck" in the Midtown Tunnel. Dubious but panicked New Yorkers wonder if this is the next big attack or another false alarm. With the streets of Manhattan welded solid with traffic, Alex and Ruth must get their dachshund, whose back legs have suddenly become paralyzed, to the animal hospital sixty blocks north.

Using a cutting board as a stretcher, they ferry their beloved Dorothy uptown. Twelve-years-old, gray-faced, with only a few teeth remaining, she is the emotional center of Ruth and Alex's forty-five-year-long, childless marriage.

But this is also the weekend that Alex, an artist, and Ruth, a retired school teacher with an FBI file as thick as a dictionary, must sell their apartment, a five-flight walkup in the East Village. While house hunters traipse through during their Open House, they wait by the phone to hear from Dorothy's doctor.

During the next forty-eight hours, as the missing truck driver terrorizes the city, the price of their home becomes a barometer for collective hope and despair as the real estate market spikes and troughs with every breaking news story. In shifting points of view Alex's, Ruth's and the little dog's men and beast try to make sense of the cacophony of rumors, opinions, and innuendos. And in the center of the noisy maelstrom, fighting for her life, is Dorothy, asking herself only one question: How do I get home?

Jill Ciment is the author of HALF A LIFE, THE LAW OF FALLING BODIES, and SMALL CLAIMS.

Weblink:
http://www.jillciment.com


More like this