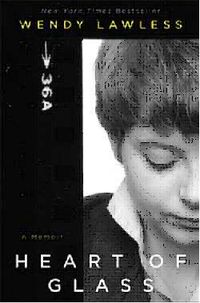 BACK
HEART OF GLASS
In this follow up to Wendy's first memoir CHANEL BONFIRE, which delved into Wendy's tumultuous upbringing and focused specifically on her volatile mother Georgann Rae, HEART OF GLASS tell the story of a girl without a roadmap for life, who leaves her car wreck past to find herself in the gritty, dangerous, exciting nadir of downtown New York City.
Wendy delves into her days as an eighties party girl looking for love in all the wrong places. With thrift store wardrobes, punk rockers, drug parties, cross-dressing, and run-ins with the FBI, this is the darkly funny story of a terribly misguided young actress living in 1980s New York and searching for Mr. Right, an identity, a job, and occasionally, a free meal. Oh, and she still has a crazy mother.

Wendy Lawless is an actress who has appeared on television, in regional theatre, Off-Broadway in David Ives Obie winning play "All in the Timing" and on Broadway in "The Heidi Chronicles." Her essays about being a mom in Hollywood, including "Whatever Happened to Musical Chairs?" have appeared in the local Los Angeles press. She lives in Glendale, California with her screenwriter husband and their two children. This is the follow-up to Chanel Bonfire, her debut memoir.
More like this