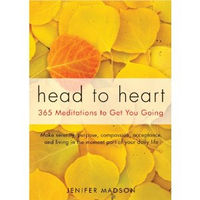 BACK
HEAD TO HEART
365 Meditations to Get You Going
HEAD TO HEART is a 365-day book that guides readers to cultivate (and sustain) greater awareness of the countless workings of everyday life; and to embrace and grow from them all, no matter how joyful or painful. Using this book will help the reader make serenity, purpose, compassion, acceptance, and living in the moment part of daily life.
Madson writes, "Awakening isn't a one-time occurrence, although moments of clear realization can feel quite sudden. Think of it as something we need to do every day; it is a process, a gradual awareness and growing insight." It is an extraordinary practice, whether you wish to generate more compassion or love, to better understand your mind and surroundings, to find answers to specific challenges, or all of the above. And this practice can happen anywhere, at any time: on the mat or on the move, sitting or walking, in silence or conversation, alone or with a group; in short, whenever you are consciously pointing your mind toward greater clarity and service while connecting with the Spirit, you are meditating and preparing to awaken.

HEAD TO HEART includes real life situations in ways that real life people can relate to, and provides points for meditation and awakening, but also questions and suggestions that will inspire you to take specific actions to grow in love and usefulness, creating an unshakeable sense of well-being in order to meet all of life's demands. Each entry is about 100 words long and moves the reader toward the promise of peace, joy, and purpose at the start or end of each day, or as a pick-me-up in the middle of the day.

Jenifer Madson is an award-winning author, speaker, and success coach. She is the author of Living the Promises: Coming to Life on the Road to Recovery, 2013 (also available from Conari). She contributes to TheConversation.com, has mentored at-risk youth, and coached Fortune 100 executives. Visit her at www.livingthepromises.com or www.jenifermadson.com.

Weblink:
www.livingthepromises.com or www.jenifermadson.com.


More like this