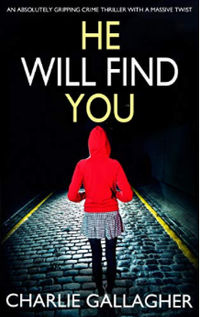 BACK
HE WILL FIND YOU
Early Sunday morning, a rainy city centre. A ten-year-old-boy steps out in front of traffic. He is dazed, confused and barefoot. He is covered in blood. It's not his...
Detective Maddie Ives is called out and finds the boy backed up against a shop front. He can't or won't speak. His face is a mask of shock and his whole body is tense. He's ready to run again. He can't tell her why.
Who scared this boy out of his wits?
Then a man is found brutally murdered, dragged to death. And Maddie and Detective Harry Blaker are determined to find out who is pulling the strings.
If they don't stop him, he will find more victims. And the evil will come close to home.


Charlie Gallagher has been a serving UK police officer for ten years. During that time he has had many roles, starting as a front-line response officer, then a member of a specialist tactical team and is currently a detective investigating serious offences.
More like this