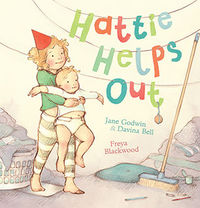 BACK
HATTIE HELPS OUT
Hattie is the perfect helper. Or so she thinks! An endearing picture book that any child - and parent - will relate to.
It's a busy day at Hattie's house. There's a lot to do before Dad's birthday party.

Hattie is being very helpful, until it's time for her afternoon nap.

Hattie's not even sleepy! But Mama looks tired. Very tired...

A delightfully funny story about a little girl with big ideas, from a winning combination of creators.

This is a book that celebrates so many themes of childhood: creativity, naughtiness, sibling rivalry, birthday parties, family celebrations, overwrought mothers, 'helping' in a way that isn't entirely helpful!

At its heart is a feisty, energetic, joyous, loveable little girl, who embodies so many of the wonderful and difficult aspects of childhood.

DAVINA BELL is a book editor and writer for young people. She is the author of the Alice books in the bestselling Our Australian Girl series of historical fiction for middle readers. Her first picture book, The Underwater Fancy-dress Parade, was published in March 2015, and she is currently writing a young adult novel on the edge of a vineyard in the Margaret River region.

JANE GODWIN is the author of many award-winning stories for young people, including her bestselling picture books with Anna Walker, What Do You Wish For?, Starting School, Today We Have No Plans, All Through the Year and Little Cat and the Big Red Bus. Jane has also collaborated with Andrew Joyner on the delightful picture books How Big Is Too Small? and Bear Make Den.

The daughter of a painter and an architect, FREYA BLACKWOOD began drawing at a young age. She has collaborated with many wonderful authors, including Libby Gleeson, Margaret Wild, Jan Ormerod, Roddy Doyle and Nick Bland. Freya won the prestigious Kate Greenaway Medal for Harry and Hopper, and her books have been honoured in the Children's Book Council of Australia Book of the Year Awards many times.
More like this