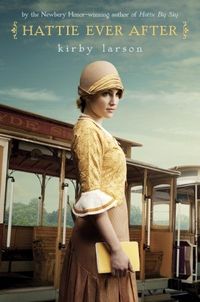 BACK
HATTIE EVER AFTER
The much-anticipated follow-up to the beloved 2007 Newbery Honor Book HATTIE BIG SKY. In HATTIE EVER AFTER, orphan Hattie Inez Brooks throws a lasso around a new dream, even bigger than the Montana sky.
She wants to be a reporter, knowing full well that a few pieces published in the Arlington News will not suffice. Real reporters must go GrandPlaces, and do Grand Things, like Hattie's hero Nellie Bly. Another girl might be stymied by this, but Hattie has faced down a hungry wolf and stood up to a mob of angry men. Nothing can squash her desire to write for a big city newspaper. A letter and love token from her Uncle Chester's old flame in San Francisco fuels that desire, and Hattie jumps at the opportunity to get there by working as a seamstress for a traveling acting troupe. This could be her chance to solve the mystery of her "scoundrel" uncle and, in the process, help her learn more about herself. But Hattie must first tell her good friend Charliethat she will not join him in Seattle. Even though her heart approves of Charlie's plan for their marriage, her mind fears that saying yes to him would be saying no to herself. Hattie holds her own in the big city, literally pitching her way to a by-line, and a career that could be even bigger than Nellie Bly's. But can making headlines compensate for the pain of betrayal and lost love? Hattie must dig deep to find her own true place in the world.

Kirby Larson is the acclaimed author of the 2007 Newbery Honor Book, HATTIE BIG SKY, a young adult historical novel that was inspired by her great-grandmother who homesteaded by herself in eastern Montana as a young woman. The book won the 2007 Newbery Honor Award, the Montana Book Award, was an American Library Association Best Books for Young Adults pick, an American Library Association Notable book, a 2006-07 Book Sense Children's pick, School Library Journal Best Book 2006, a Barnes & Noble Discover title, a Borders New Voices title, National Council of Social Studies and Children's Book Council Notable Social Studies Trade Book for Young People. It was a finalist for the California Young Readers Medal, the Cybils Award, and the Washington State Book Award as well as numerous Young Readers Choice awards and earned starred reviews from Booklist and School Library Journal. Kirby collaborates with her good friend, Mary Nethery, which has resulted in two nonfiction picture books: TWO BOBBIES: A True Story of Hurricane Katrina, Friendship and Survival, illustrated by Jean Cassels (Walker 2008) and NUBS: The True Story of a Mutt, a Marine and a Miracle (Little, Brown 2009), which spent 12 weeks on The New York Times bestseller list.She is also the author of the first book in Scholastic's re-launch of its DEAR AMERICA series, THE FENCES BETWEEN US (2010), and THE FRIENDSHIP DOLL (Delacorte Books for Young Readers 2011), a 2012 National Council of Teachers of English Notable Children's Book in the Language Arts.

Weblink:
www.kirbylarson.com


More like this