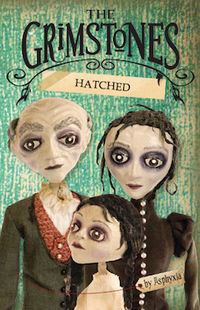 BACK
HATCHED!
Meet Martha Grimstone a girl trying to find her own special talent in the world in this wonderful gothic fantasy told in a collage of words, full-colour photos and drawings.
Hi, my name's Martha and I'm quick as a hummingbird. I have good deportment and a knack for inventions, and my Magnificent Quail Act is second to none.

I live in a grand old house in a valley full of rare and precious herbs, and at times my heart pounds with naughtiness.
My grandfather heals people with his magical concoctions, and my Aunt Gertrude runs our house like a navy captain. My mama's excused from being a proper mama because she is a seamstress, and also because she has been weeping ever since my father died when I was a baby.
Shall I tell you my best secret? One day I'm going to be Lady Martha the Magnificent. I don't know what my special talent is, but I'm going to find it .

Asphyxia is an incredibly talented deaf writer, dancer, circus performer and puppeteer. The Grimstone books are based on her highly successful children's puppet show which has toured nationally and in France to sold-out shows and rave reviews (most recently at the Adelaide Fringe): 'The Grimstones is a must-see' Sunday Mail 'A suberb fantasy tale, beautifully performed and artfully created' Arts Hub 'Winning the hearts of adults and children alike' Lowdown Magazine 'Enchanting and captivating' Rip It Up Magazine 'It's the BEST thing I have ever seen' Jack, aged 7. There is a wealth of information available through www.asphyxia.com.au.

Weblink:
www.thegrimstones.com


More like this