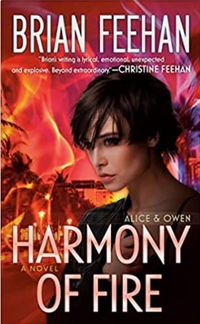 BACK
HARMONY OF FIRE
The riveting first novel in a brand new paranormal romance series by debut author Brian Feehan, son of legendary #1 New York Times bestselling author Christine Feehan.
The We walk among us - beings who existed long before humans ever did, filled with powerful magic. Owen and Alice are both Etherealist, rare humans born with magic and a target for those We that wish to take it from them. At nine years old and against her will, Alice's soul was tied to one such powerful and evil We. She escaped and was trained as a weapon so she might one day break the bond and safely return home. Everything is going to plan until she meets Owen.

Owen is a musician who is trying to outrun his past while keeping those around him safe in an increasingly dangerous world. Owen keeps them on the move until a band of Hunters makes their discovery inevitable. Owen must go home, a place he swore never to return, and seek protection from the We who could destroy them. And then he meets Alice. Only through finding each other do either Alice or Owen have a chance of survival.

Brian Feehan lives in the northern coast of California with the love of his life, Michelle, and their son, Dylan. He is the son of #1 New York Times bestselling author Christine Feehan, who started his training to become an author before he was old enough to walk. HARMONY OF FIRE is his debut novel.

Weblink:
https://brianfeehanauthor.com/


More like this