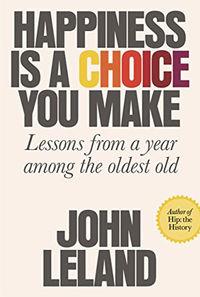 BACK
HAPPINESS IS A CHOICE YOU MAKE
Lessons From a Year Among the Oldest Old
In HAPPINESS IS A CHOICE YOU MAKE, Leland shares the life lessons he learned from talking with six wise (and sometimes not-so-wise) elders over the course of a year. He learned that for all of them 'old age' is not a problem to be fixed but a stage of life like any other. He tries to answer the overarching question one of the elders asks him: "Do you know what you want to do when you get old?" It's an important question because more of us are living past the age of 85 than ever before yet we rarely turn to our elders for advice. We love to hear stories of people who made it to the top of Mt. Everest or ran 30 marathons in 30 days but we don't listen to stories from people who made it to 87 or 92 years old. Why not? In HAPPINESS IS A CHOICE YOU MAKE, Leland chronicles his year listening and shares the insights he learned.

HAPPINESS IS A CHOICE YOU MAKE is an expansion on John Lelands's very popular six-part series, "85 and Up" which ran on the front page of Sunday's New York Times Metro Section and garnered over 500,000 online views plus print readers (usually a story that attracts 100,000 is considered a smash). The series followed six elderly New Yorkers-- of different social classes and races, gay and straight, homebound and ambulatory-- for a year as they navigated a stage of life that most of us would rather not think about, though many of us will experience - 85 years and up. Based on this popular series, HAPPINESS IS A CHOICE YOU MAKE is a rare, intimate glimpse into the end of life, and the insight that can enhance the years preceding. What Leland finds is deeply heartening: Even as our faculties decline, we still wield extraordinary influence over the quality of our lives. Happiness is a choice we make.

John Leland is a reporter at The New York Times and the author of Hip: The History and Why Kerouac Matters: The Lessons of On the Road (Japan: BI Press). Previously he was a senior editor at Newsweek, Editor-in-Chief of Details, a reporter at Newsday and an original columnist at Spin.
More like this