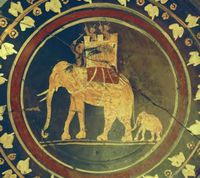 BACK
HANNIBAL'S OATH
The Life and Wars of Rome's Greatest Enemy
Accessible and complete account of one of history's greatest generals.
According to ancient sources, Hannibal was only nine years old when his father dipped the small boy's hand in blood and made him swear eternal hatred of Rome. Whether the story is true or not, it is just one of hundreds of legends that have appeared over the centuries about this enigmatic military genius who challenged Rome for mastery of the ancient world.

In this new biography, historian John Prevas reveals the truth behind the myths of Hannibal's life, wars, and character— from his childhood in Carthage to his training in military camps in Spain, crossing of the Alps, spectacular victories in Italy, humiliating defeat in the North African desert, banishment from Carthage, and suicide.Hannibal's Oathis an epic account of a monumental figure in history.

This biography traces Hannibal's life from his birth to his death by taking his readers on a breathtaking journey from the deserts of Carthage, through Spain, over the Alps, through the battlefields of Italy and finally to ancient sites in Crete, Lebanon, Syria and Istanbul.The work is based onresearch in primary sources (ancient Greek and Latin manuscripts), and follows in Hannibal's footstepswhile blending for the reader an ancient story with modern observations. Hannibal's Oath will be the definitive biography of this unique and fascinating leader.

John Prevas is aNew York TimesBestselling author, adventurer, and a teacher of classics. He is widely published and he is considered one of the leading experts on Hannibal. He has taught Latin, Greek, Government, Law and History at St. Mary's College of Maryland and Towson University.He has participated in a documentary on Hannibal filmed in the Alps by the BBC and the National Geographic Society, and he has spoken on Hannibal as a leadership figure at a meeting of United Nations ambassadors in New York and at the Smithsonian Institute in Washington, DC.
More like this