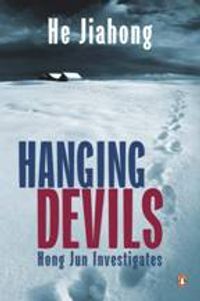 BACK
HANGING DEVILS
An intriguing novel that examines crimes of the past, committed during the fall out of the Cultural Revolution, from the perspective of developing China in the early 90s. The fight for the unjustly convicted reveals endemic corruption, conspiracies, and cover-ups.
As a professor of law, He Jiahong's unique insight into the criminal investigation process and his realistic descriptions of daily life in China set this book apart from other mainstream Chinese crime fiction. It offers the reader a glimpse into a turbulent, changing country and one investigator's drive for the truth. Following his recent return to the motherland, Hong Jun, an investigative lawyer, becomes drawn into an inquiry into a miscarriage of justice that took place over a decade ago - shortly after the Cultural Revolution - leaving an innocent man behind bars and a murderer scot-free.

Eleven years ago, a young woman, Li Hongmei, was raped and murdered on a remote state farm in the distant northern Chinese province of Heilongjiang. At the time of the murder, two officers of the county Public Security Bureau happened to be investigating a political case at the farm. They are quick to pin the crime on Xiao Xiong the son of a Rightist and the subject of their original investigation, due to his links to the democratic movement and Zheng Jianguo, a young neighbour of the victim and friend of Xiao Xiong.

While Zheng Jianguo is left to rot in prison, Xiao Xiong is never apprehended and his whereabouts remain a mystery. Back in the present, Zheng Jianguo's older brother - now a wealthy tycoon having benefited from the construction boom - enlists Hong Jun's help to clear his brother's name. Hong Jun's investigation reveals the sleazy underbelly of the system and sheds light on a world of corruption, betrayal and treachery. Hong Jun finds himself treading on a number of local officials' toes, many of whom were part of the original investigation in some capacity or another. Thus, his investigation becomes gradually more fraught with danger and no-one is who they seem to be.
More like this