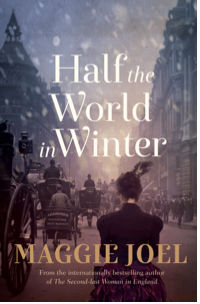 BACK
HALF THE WORLD IN WINTER
An atmospheric story of families broken apart by tragedy and fate, set in 19th century London.
Half the World in Winter begins with the dramatic crash of the 1.55pm local train from Shrewsbury to Birmingham in the early days of the North West Midlands Railway. It is winter in 1880 and the newly extended railway line is beset with accidents, and Mr Lucas Jarmyn, one of the directors of the railway company, wants to know why as he faces inquiries and protests into the tragic deaths.

But trouble is also a lot closer to home in the Jarmyn's five-storey townhouse at 19 Cadogan Mews, in a part of Bloomsbury just becoming fashionable thanks to the fortunes of Lucas's late father, Mr Samuel Jarmyn, wealthy industrialist and the founder of the company.

It is December and bitterly cold in London but Lucas Jarmyn refuses to light the hearths as he struggles to come to terms with the death of his beloved young daughter Sofia in a terrible fire in the drawing room of their home. His wife Aurora is just emerging from her mourning after six months, and their daughter, eighteen-year-old Dinah Jarmyn, struggles with the meaning of life in the changing times as England heads towards the turn of the century. The family is well looked after by housekeeper Mrs Logan, but two maids have left the household in quick succession on sighting strange shadows and hearing unexplained screams from the depths of the house. It seems Major Digby Randle, Aurora's battle-scarred and demented uncle who also lives in Cadogan Mews, may hold the answer to what really happened to Sofia in the drawing room.

Maggie Joel's first novel, The Past and Other Lies was published in 2009 and her second novel, The Second-Last Woman in England in 2010 both by Murdoch Books. The Second-Last Woman in England was awarded the Fellowship of Australian Writers' Christina Stead Award for fiction.
More like this