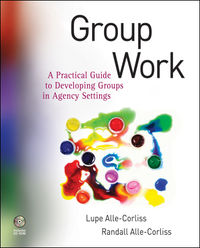 BACK
Group Work
A Practical Guide to Developing Groups in Agency Settings
Thorough, hands-on guidance for conducting group work in nonprofit, public, and for-profit agency settings
.
Because it improves access, is cost-effective, and can be modified to conform to evidence-based practice, group work has become the treatment approach of choice in a broad range of human service agencies. Written in an approachable manner that allows for direct translation of concepts into practice, Group Work: A Practical Guide to Developing Groups in Agency Settings provides a dual emphasis on clinical group skills along with a thorough understanding of agency systems that is necessary to meet the demands of today's practice settings.
Written by two experts in the field, this book offers:
Practical, detailed, ready-to-use group treatment plans, including group objectives, weekly session guidelines, discussion topics, activities, relevant research, and other essential tools
Coverage of the three major types of agencies—nonprofit, public, and for-profit—supported by research and evidence-based treatments that reflect practitioners' actual experiences
A unique agency perspective that includes coverage of agency structure, policies, history, staff, politics, informal and formal norms, and diverse client populations
Group Work also contains a resourceful CD-ROM with over fifty different Group Profiles that can be customized to suit clients' unique styles and needs. Addressing a wide variety of psychological issues frequently encountered in therapy work with groups,¿the Group Profiles cover a range of clients across the lifespan—children, adolescents, adults, older adults, and the medically ill. Topics covered in these Group Profiles include anxiety, depression, divorce adjustment, substance abuse, foster care, trauma, chronic pain, anger management, hospice, weight management/obesity prevention, teen pregnancy, HIV/AIDS, and many more.
Clear, concise, and current, Group Work: A Practical Guide to Developing Groups in Agency Settings is a useful resource from which professionals will gain the knowledge, skills, and awareness of the many intricacies involved in working with diverse groups within different agency settings. Its easy-to-follow presentation will enable all mental health professionals to successfully apply a variety of concepts, ideas, and skills into their group work practice.
Note: CD-ROM/DVD and other supplementary materials are not included as part of eBook file.
More like this