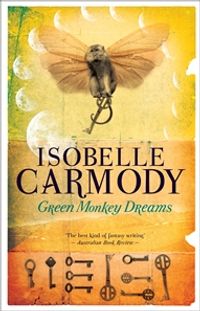 BACK
GREEN MONKEY DREAMS
The reissue of a stunning collection, full of provocative ideas and haunting images, from one of Australia's finest writers of fantasy.
'I ride this day upon the Worldroad, alone, except for Courage who rides on the pommel of my saddle fluffing his feathers. I did not dream of journeying thus as a child …'
This is the unforgettable world of Isobelle Carmody, presented in fourteen stories written over a period of thirteen years.
Within it you will find roads of paradox on which an angel might be a torturer, or a princess reject a prince to save a rooster. These are paths travelled by seekers of the difficult deepest truths never found on straight roads; here a boy searches for his true name, a group of pilgrims is led by a song on an ancient journey, and a beast discovers hope.
Enter this world and you will never again be sure where reality ends and imagination begins, for sometimes the greatest truths can only be told through imagination.

Isobelle Carmody is best known for her brilliant Obernewtyn Chronicles and for her award-winning novel The Gathering. She has written many short stories for both children and adults and was co-editor with Nan McNab of the fairytale anthologies, The Wilful Eye and The Wicked Wood. Isobelle divides her time between Prague in the Czech Republic and her home on the Great Ocean Road in Australia.

Weblink:
http://www.isobellecarmody.net/


More like this