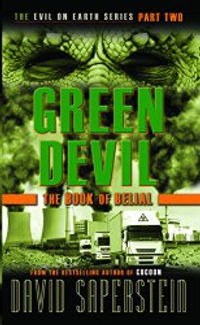 BACK
GREEN DEVIL
The Book of Belial
GREEN DEVIL: The Book of Belial is the second book in The Evil on Earth Series by David Saperstein, author of the best selling novel, Cocoon.
Evil fallen archangel, Belial the Green Devil, plans to obliterate God's creation, mankind, by destroying the Earth's environment. He has the ability to take on the form of animals and birds, but now exists in human form as mega entrepreneur Nicholas Perez. By catering to the greed of high-level government officials, he gains control over huge amounts of nuclear waste materials to introduce into the water supply of major cities.

Only a small, dedicated, international and diverse group of men and women known as The Vigilant, are aware of the archangel's existence. They alone stand between Belial's evil plan and the salvation of the planet.

David Saperstein is the author of Cocoon, a New York Times Bestseller and Academy Award winning film. In addition to the Evil on Earth series (of which Red Devil is Book One), his novels include Metamorphosis: The Cocoon Story Continues and Butterfly: Tomorrow's Children – parts II and III of the Cocoon Trilogy, Fatal Reunion, and he co-authored A Christmas Gift, A Christmas Passage and A Christmas Visitor. David's novel Dark Again was the first full novel available via the Internet.
More like this