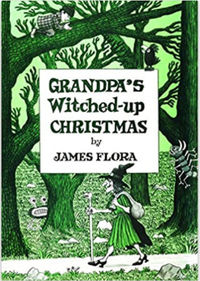 BACK
GRANDPA'S WITCHED UP CHRISTMAS
When Grandpa was a boy, the most terrible thing happened to him the day before Christmas. While taking a shortcut through the woods, he met three fearsome witches...
One, with sharp teeth and hair like an unmowed lawn, pointed her finger at him, squealed, "Sha-zam!" and turned him into a snake. The second witch, who didn't have any feet, turned him into a turkey buzzard. And the third-tall and warty-screamed, "Ta-pooty!" and changed him into a pig. Home he ran, but his parents wouldn't let him in.

James Flora's tall tales - among them Grandpa's Ghost Stories rereleased by Feral House in 2017 - with his ingenious illustrations, are favorites with children and adults alike. His many fans will be delighted with Grandpa's next adventures.

James Flora was the author/illustrator of many popular children's books. He worked with renowned children's book editor Margaret McElderry at Harcourt Brace and at Atheneum.
More like this