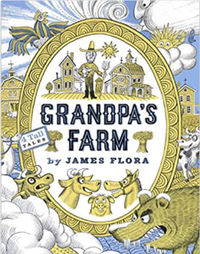 BACK
GRANDPA'S FARM
Grandpa lives on a farm and likes to tell his grandson tall tales. There is no end to Grandpa's hilarious invention -- or to James Flora's comic illustrations.
Here are just a few of Grandpa's whoppers!
Grandpa is almost as tall as the trees. So tall, he feeds worms to the birds nesting in his hat.
Grandpa's eyebrows are so bushy they fell down his face and turned into his beard.
Grandma's hen was such a good layer, she could sit on a doorknob and hatch a door!

This is the perfect companion to Grandpa's Ghost Stories and Grandpa's Witched-Up Christmas.

James Flora (1914-1998) was best known by adults for his wild jazz and classical album covers for Columbia Records (late 1940s) and RCA Victor (1950s). While children (and their caretakers) know that he authored and illustrated 17 popular children's books. Flora balanced a devilish sense of humor and a flair for juxtaposing playfulness, absurdity, and scariness into storybooks that kids and adults want to read over and over again.
More like this