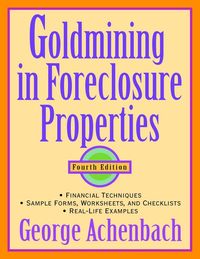 BACK
Goldmining in Foreclosure Properties
"Your 'Between Two Houses' ideas for finding deals is one of the best ideas in any real estate book I've ever read."—Sarah Lopez, Houston, Texas.
"My brother and I are doing this part time and so far we've made over $100,000 apiece in a little over two years."—Edgar Cole, Hartford, Connecticut.
"We made money on our first Goldmining deal to take care of all the costs on our second Goldmining home (which we are living in). Thanks."—Stan Londski, Colton, Connecticut
People all across the country are raving about George Achenbach's bestselling Goldmining in Foreclosure Properties series. Isn't it time you found out why? With this expanded Fourth Edition, the expert in foreclosure properties reveals how you can use a few simple techniques to profit from distress properties, while at the same time help troubled owners save their credit rating.
Combining proven strategies with twenty-five years' experience, Achenbach takes you step-by-step through the entire foreclosure process: from the first notice of default to the foreclosure sale or auction to the final disposition of the profit-making property. Everything you need to become a specialist in the field of distress properties is here, including sample forms, worksheets, checklists, and real-life examples, as well as procedures to follow, evaluation techniques, and negotiating tips. There are even suggestions on leasing homes, creating rental income, saving on taxes, and avoiding pitfalls. Additionally, a new chapter gives advice on adding a second floor after buying at auction.
Whether you're a first-time buyer or a seasoned investor, this comprehensive, money-making guide will show you everything you need to succeed at any stage of the distress property cycle, including:
Procedures for locating distress properties.
Financial analysis techniques on evaluating property and making the right offer.
Bidding successfully at auctions.
Effectively dealing with lenders when the property goes REO.
How you can benefit from reselling property quickly.
Negotiating tips for dealing with new purchasers and profitably transferring titles.
Generating rental income, capital appreciation, and tax savings through property leasing.
More like this