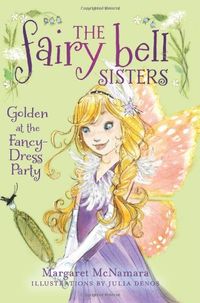 BACK
GOLDEN AT THE FANCY-DRESS PARTY
For fans of Rainbow Magic Fairies and Disney Fairies comes the third book in the Fairy Bell Sisters, a magical and utterly charming chapter-book series about Tinker Bell's little sisters, by Margaret McNamara.
In Golden at the Fancy-Dress Party, Goldie travels to the mainland for Queen Titania's annual fancy-dress competition. But the mainland is so different from Sheepskerry Island—her host fairies are rather unfriendly and even play a mean trick on Goldie when they realize she has trouble reading. And Goldie feels out of place without her sisters by her side. She will have to use her creativity and quick thinking to turn the party from disaster to success.

Margaret McNamara is the pen-name for a children's book editor and literary agent. She is the author of more than two dozen books for young readers. Many of the ideas for her books come from her daughter's school days, or her own. Margaret and her family live in New York City, and spend as much time as they can during the summer in Maine.

Julia Denos once again graces this delightful text with her girly and energetic illustrations.

Weblink:
http://www.harpercollinschildrens.com/books/Fairy-Bell-Sisters-3-Golden-Fancy-Dress-Party/?isbn13=9780062228086&tctid=100


More like this