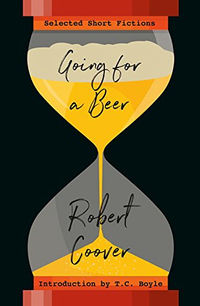 BACK
GOING FOR A BEER
Selected Short Fictions
A collection of the best short fictions from the grandmaster of postmodernism.
Robert Coover has been playing by his own rules for more than half a century, earning the 1987 Rea Award for the Short Story as "a writer who has managed, willfully and even perversely, to remain his own man while offering his generous vision and versions of America." Coover finds inspiration in everything from painting, cinema, theater, and dance to slapstick, magic acts, puzzles, and riddles. His 1969 story, "The Babysitter," has alone inspired generations of innovative young writers. Here, in this selection of thirty of his best stories, you will find an invisible man tragically obsessed by an invisible woman; a cartoon man in a cartoon car who runs over a real man who is arrested by a real policeman with cartoon eyes; a stick man who reinvents the universe. Going for a Beer confirms Coover's reputation as "one of America's greatest literary geniuses" (Alan Moore).

Robert Coover is the author, most recently, of Huck Out West, among many other works including The Universal Baseball Association, Inc., J. Henry Waugh, Prop.; The Public Burning; and Ghost Town. He is a pioneer in the field of electronic writing and ran the International Writers Project for endangered writers at Brown University. He lives in Providence, Rhode Island.
More like this