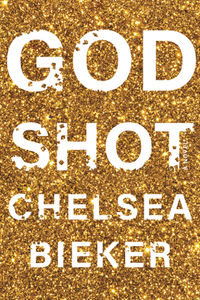 BACK
GODSHOT
Fourteen-year-old Lacey May Herd is in trouble. Serious trouble. And there's no one, it seems, in the whole of Peaches, California who can help.
Her troubled mother has run off with a man she met through her job as a phone sex operator. Her grandmother, Cherry, is more concerned with her taxidermy mice than with Lacey's struggles. And the rest of her community - including her cousin, Lyle, and their Pastor, Olaf - are preoccupied with the drought that's settled on their Central Valley town, bankrupting the area's once-lucrative raisin farms, and the church's upcoming revival, which Olaf promises will, at long last, 'bring the rain.'

Raw and unflinching, told in bright, snapping prose, both Godshot and Cowboys and Angels (Chelsea Bieker's first story collection, set in the same fictional Central Valley town as Godshot) imagine a harsh gothic world of longing and abandonment under an unrelenting country sun.

Chelsea Bieker received her MFA from Portland State University and is the recipient of a MacDowell Colony fellowship. Her work has been published, or is forthcoming, in McSweeney's, Catapult, Joyland, and elsewhere. Godshot is her first novel.
More like this