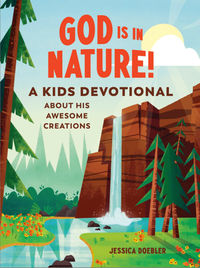 BACK
GOD IS IN NATURE!
A Kids Devotional About His Awesome Creations
This is the only kids nature devotional featuring Scripture, Bible studies, and prayers that collectively teach children to praise God by appreciating nature and His awesome creations.
In this exciting and inspiring kids devotional, children will learn firsthand about God's fascinating world and amazing creations. From reading God's words in the Bible to getting outside and being captivated by the highest mountain and the tiniest fish, kids ages 6-10 will connect with God in fun and engaging ways.

The Bible tells us about the story of creation and the amazing things that God can do. From rainbows and waterfalls to deserts and a starry night, God's miracles surround us, and they are undoubtedly awesome and cool.

GOD IS IN NATURE features
- 100 kids devotions, organized by locale - accessible places like fields and parks; rivers, oceans, and lakes; and forests and mountains - offer opportunities for immediate exploration
- Prayers help kids slow down and appreciate what's in front of them.
- Stunning illustrations capture a glimpse of the beauty and wonder that awaits the reader outside and creates the perfect gift package for those looking for a beautiful and meaningful Christian book for kids.
- Less screen time with activity tips that encourage kids to get outside and see nature.

Jessica Doebler is a homeschool mom and the creator of the website Inspire the Mom. Her heart's desire is to inspire a love for learning and encourage families to foster faith in their kids.
More like this