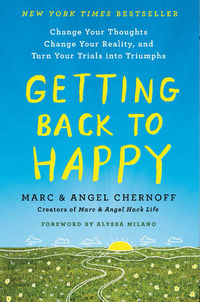 BACK
GETTING BACK TO HAPPY
Change Your Thoughts, Change Your Reality, and Turn Your Trials into Triumphs
Marc and Angel Chernoff have become the go-to voices in the area of personal development, reaching tens of thousands of fans each day with their fresh and relatable insights. GETTING BACK TO HAPPY is the book they wish they'd had when they needed it most.
The instant New York Times bestseller reveals their strategies for changing thought patterns and daily habits to bounce back from tough times. Sharing never-before-published stories and advice, the book shows readers how to harness the power of daily rituals, mindfulness, self-care, and more to overcome whatever life throws their way - in order to become their best selves.

PHENOMENAL ONLINE READERSHIP: The authors', Marc & Angel Hack Life, reaches several million engaged fans each month, and their newsletter has more than 165,000 subscribers. Their Facebook page has more than 267,000 likes and their Instagram has over 15,600 followers.

AN EMPOWERING MESSAGE FOR UNCERTAIN TIMES: Learn to change what you can and to better navigate what you can't.

POWERFUL INFLUENCER CONNECTIONS: Alyssa Milano (3 million Twitter followers) wrote the Foreword, and the authors are often retweeted by popular celebrities.

Marc and Angel Chernoff are the New York Times-bestselling authors of GETTING BACK TO HAPPY and the creators of Marc & Angel Hack Life, which was recognized by Forbes as "one of the most popular personal development blogs". Through their writing, coaching, and live events, they've spent the past decade sharing proven strategies for getting unstuck in order to find lasting happiness and success.

Weblink:
www.marcandangel.com


More like this