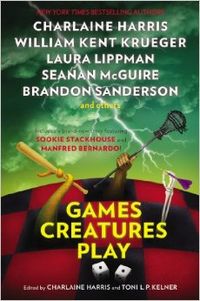 BACK
GAMES CREATURES PLAY
Includes a brand-new story featuring Sookie Stackhouse and Manfred Bernardo
All-new tales of unusual athletics by Jan Burke, Dana Cameron, Adam-Troy Castro, Brendan DuBois, Charlaine Harris, Toni L.P. Kelner, Caitlin Kittredge, William Kent Krueger, Ellen Kushner, Mercedes Lackey, Joe R. Lansdale, Laura Lippman, Seanan McGuire, Brandon Sanderson, Scott Sigler

Welcome to the wide world of paranormal pastimes, where striking out might strike you dead. Editors Charlaine Harris and Toni L. P. Kelner are your announcers for this all-new story collection of the most peculiar plays ever made

Sports fans live and die by their teams' successes and failures—though not literally. But these fourteen authors have written spirited—in more ways than one—new tales of killer competitions that would make even the most die-hard players ask to be benched.
More like this