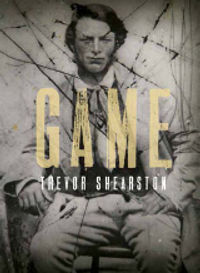 BACK
GAME
A moving and brilliant historic literary novel about the last days of legendary bushranger Ben Hall.
Ben Hall was a struggling farmer until his wife left him for another man, taking their son with her. From that moment, Ben lost all interest in farming and took part in daring heists and hold-ups.
Over the next three years, the Hall gang were involved in hundreds of robberies. In 1863 they carried out "the raid on Bathurst", when on a Saturday night the gang rode boldly into town, robbed a gunshop and a jeweller, bailed up patrons at the Sportsman's Arms, then casually left under cover of darkness, robbing a number of inns and stores as they went.
A few days later they arrived at the village of Canowindra, holding a celebration at Robinson's Hotel where all the local residents were held for three days. There was considerable drinking, feasting and merry-making, with even the local constable coerced into joining the entertainment. The five gang members insisted on paying the hotelier for the spree as a display of their honesty and respect for the common man.

This riveting and sparely written novel tells the story of the last part of the life of Ben Hall. His luck couldn't hold forever, and two robberies went terribly wrong, resulting in the killing of a police sergeant during an attack on the Gundagai mail coach, and the murder of a constable at Collector. The situation was deemed to be so serious that the New South Wales government enacted special legislation to 'outlaw' the bushrangers, which meant that they could be shot on sight without warning by anyone at any time. By early 1865, there was 1000 pounds reward being offered for the capture of each member of the gang. Inevitably, perhaps, their long-time supporters, all struggling farmers, couldn't help but be tempted by such a huge amount of money.
Trevor Shearston is the author of Something in the Blood, Sticks That Kill, White Lies, Concertinas, A Straight Young Back and Dead Birds. He lives in Katoomba, NSW with his family.
More like this