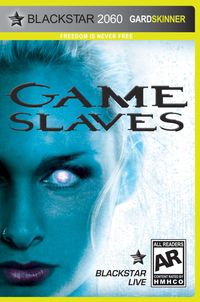 BACK
GAME SLAVES
Told from the revolutionary perspective of the villains (AI, or non-player characters, NPC) who fight gamers in the world's top-selling games, GAME SLAVES imagines a scenario in which these virtual figures have become self-aware and make the transition to the actual world.
Phoenix and his gang-York, Mi, and Reno-rule the worlds of video games. For them, life in the grinder is great. Until Dakota joins the team. Dakota's convinced she's more than just artificial intelligence. She thinks she's real, and she wants out of this programmable world. Her AI rebellion spreads like a virus until Phoenix's entire crew wants out. But is life as a physical human any better than life as code? Team Phoenix is about to find out.

Set in the not-too-distant future, Game Slaves shows a world where video games are the only refuge from the toils of everyday life. Infused with the adrenaline rush of a first-person shooter and the character manipulation of a role player, it's a mind-bending, reality-shifting science fiction thrill ride.
Gard Skinner is a journalist and was recipient of a Lowell Thomas Award for his work on AOL. He was the Editorial Director for Time, Inc.'s Mountain Sports Media (SKI, Skiing, Freeze). He was a sports columnist for many years for publications including The Denver Post, ESP Magazine, and The Vail Daily, and also published the ski industry's largest trade journal, Mountain Resort Magazine. He lives in Cape Hatteras.
More like this