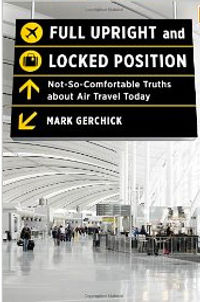 BACK
FULL UPRIGHT AND LOCKED POSITION
Not-So-Comfortable Truths About Air Travel Today
An enlightening exploration of the often-grueling, sometimes-infuriating experience of air travel today.
"Sit back, relax, and enjoy the flight," our pilots still intone, but who are they kidding? The reality of commercial air travel—a multi-billion-dollar business obsessed with efficiency and the bottom line—has little to do with the "miracle" of soaring serenely above the clouds.

In Full Upright and Locked Position Mark Gerchick draws on his twenty years spent advising several of America's largest airlines and airports, and as a key government aviation official, to decipher the quirks, mysteries, and unseen forces that have shaped the flying experience since September 11, 2001. From the effects of crushing fuel prices to the alchemy of air fares and endless nickel-and-diming, Gerchick explains how flying is losing its soul and what that means practically for our health, safety, and most of all our sanity. Aviation enthusiasts and everyday travelers alike will find this journey alternately fascinating, disturbing, and even a little funny. A former chief counsel of the Federal Aviation Administration and Transportation Department policy official, Mark Gerchick, now an aviation consultant, lives in McLean, Virginia.
More like this