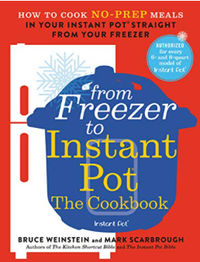 BACK
FROM FREEZER TO INSTANT POT
The Cookbook: How to Cook No-Prep Meals in Your Instant Pot Straight from Your Freezer
Reinvent your weeknight cooking with this complete guide to straight-from-the-freezer meals in your Instant Pot--with zero preparation required--from the bestselling authors of the Instant Pot Bible.
The Instant Pot transformed the way you feed your family, letting you put meals on the table in record time. Now, upgrade the way you use your Instant Pot to make it even more convenient with these 75 recipes and a host of strategies for cooking meals straight from your freezer, with absolutely no thaw time or pre-preparation required.

Each recipe gives timings and ingredients for every 6 and 8-quart model of Instant Pot, including the new Instant Pot Max-and the recipes include everything from hearty stews to healthy sides to delicious braises and even roasts that go from your freezer to your plate in a matter of minutes: just dump, lock, and cook.

You'll find:
- Butternut Squash Bisque
- Ground Beef Lo Mein
- Ziti with Sausage and Peppers
- Chicken Fajitas
- Sweet-and-Sour Shrimp
And much more!

Bruce Weinstein and Mark Scarbrough are the bestselling authors of the Instant Pot Bible, among more than 30 other cookbooks. They are the owners of mediaeats, a culinary production company, were nominees for 2011 and 2015 James Beard Awards, won the 2015 IACP Award, and are the longest-serving columnists on WeightWatchers.com, as well as regular contributors to the Washington Post, Fine Cooking, and Cooking Light.
More like this