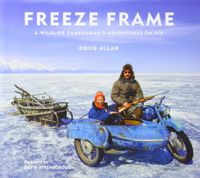 BACK
FREEZE FRAME
A Wildlife Cameraman's Adventures On Ice
Doug Allan spent seven years in Antarctica as a research diver, scientist and photographer for the British Antarctic Survey, before changing direction to full time filming in 1983.

Since then he has become one of the world's best known and respected cameramen. He specializes in natural history, expeditions and science documentaries in some of the wildest and most remote places on our planet, particularly the polar zones. In his 30-year filming career, he's worked for Discovery, National Geographic, WNET, BBC and many others, filming for series like The Blue Planet, Planet Earth, Life, Frozen Planet, Human Planet, Ocean Giants, Expedition Iceberg, Forces of Nature and Hostile Planet.

His photographic awards include eight Emmy's and five BAFTA's. He has twice won the underwater category in the Wildlife Photographer of the Year and has three Honorary Doctorates in recognition of his camerawork, as well as two Polar Medals. He is an Honorary Fellow of the New York Explorer's Club, the Royal Photographic Society and the Royal Scottish Geographical Society. In 2018 he was awarded the RSGS Mungo Park Medal for his outstanding contribution to geographical knowledge in hazardous environments.

In his debut book, Freeze Frame (foreword by Sir David Attenborough), Doug turns the focus on himself and through a collection of astounding anecdotes and breathtakingly beautiful photographs from the remotest places on earth, readers can discover just how he came by those extraordinary images.

Braving the elements and depths of the Antarctic and Arctic Oceans, Doug has produced a fascinating book offering readers a glimpse into the hostile yet inspiring world of a wildlife cameraman; highlighting unique polar experiences, Arctic field craft, the challenges and frustrations of filming the animals themselves. Sharing his insights and emotions alongside his deep understanding of the biology of the animals and the psychology of film makers.

From being pulled under water by a walrus, to the cunning and predatory Orca whale's hunting skills, Doug invites us to learn about and discover the awe-inspiring nature hidden within the polar wastelands. Often exciting, sometimes humorous and always revealing and refreshingly honest, this is a uniquely personal portrait of the polar environments and the animals that live there, written by the man who has spent more time there with a camera than anyone else.

Weblink:
http://www.dougallan.com


More like this