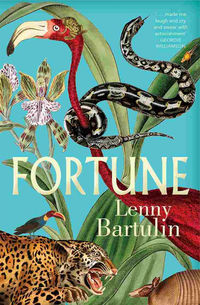 BACK
FORTUNE
"The perfect jewel of epic brevity", this historical fiction is an ambitious and sweeping novel set across the world between 1806 and 1916. We follow six characters in alternating chapters in a thrilling tale of adventure told across centuries and continents.
Lenny Bartulin's remarkable new novel Fortune is an historical novel like no other. Opening on the day in 1806 when victorious Napoleon rides into conquered Berlin, and ending on the Western Front in 1916, this is a perfect jewel of epic brevity, a rollicking adventure set over a century and across continents, a love story for the ages, a meditation on fate and history and a very abbreviated history of crime and punishment in the Antipodes. It is unique and a thing of wonder.

History is fractal. Zoom out, and you see grand themes, mass movements, stirring oratory, and profound ideas. Zoom in, and it is countless individual acts and choices, smaller moments that often seem to be just footnotes, but are, on closer inspection,
immensely revealing. Lenny Bartulin's new novel zooms in on a single moment - the 27th October, 1806 - when a triumphant Napoleon rides into the newly-conquered Berlin on a white horse, and then zooms out again to follow the progress of a small
band of individuals whose paths cross on that momentous day.

What follows is an act of huge ambition - in terms of historical and geographic sweep, the narrative moves us forward to World War I and covers people, places and events in Europe, Latin America and the Antipodes - and intense concision, since the manuscript is only 180-odd pages long. This is a thrilling tale of adventure told across across centuries and continents. It is also a distilled meditation on the chance that guides individual and collective human fates.

LENNY BARTULIN is the author of the Jack Susko trilogy, a published poet and the author of Infamy (2013). Born and bred in Hobart before living in Sydney for many years, Lenny has returned to Hobart and works part?time at The Hobart Bookshop.
More like this