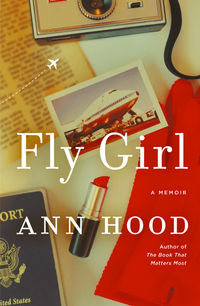 BACK
FLY GIRL
An entertaining and fascinating memoir of "gifted storyteller" (People) Ann Hood's adventurous years as a Trans World Airlines flight attendant in the 1970s.
In 1978, in the tailwind of the Golden Age of air travel, flight attendants were the epitome of glamor and sophistication. Fresh out of college and hungry to experience the world, Ann Hood joined their ranks. She carved chateaubriand in the first-class cabin, found romance on layovers in London and Lisbon, and walked more than a million miles in high heels, smiling as she served thousands of passengers. She flew through the start of deregulation, an oil crisis, massive furloughs, and a labor strike. As the airline industry changed around her, Hood began to write - even drafting snatches of her first novel from the jump-seat. She reveals how the job empowered her, despite its roots in sexist standards.

Packed with funny, moving, and shocking stories of life as a flight attendant, FLY GIRL captures the nostalgia and magic of air travel at its height, and the thrill that remains with every takeoff.

Ann Hood is the author of the best-selling novels The Book That Matters Most, The Knitting Circle, The Red Thread and Somewhere Off The Coast of Maine. Her memoir, Comfort: A Journey Through Grief, in which she shares her personal story of losing her 5 year old daughter Grace in 2002, was a New York Times Editor's Choice and named one of the top 10 non-fiction books of 2008 by Entertainment Weekly. Her writing has appeared in the New York Times, The Paris Review, O Magazine, and Real Simple. The recipient of a Best American Travel Writing Award, among other honors, she lives in Providence, Rhode Island.

Weblink:
annhood.us


More like this